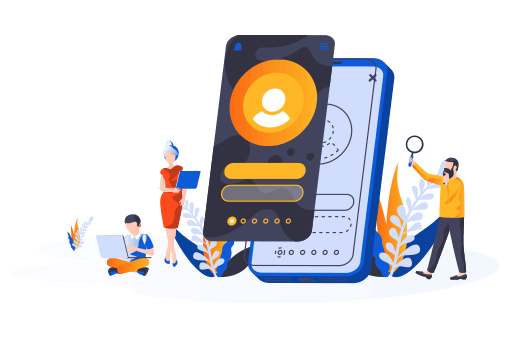 Designing elements form a major part of the website and mobile applications. In the competitive app store environment, it is important that your application is not only functionally useful but also artistically appealing. With the help of creative designers, you can add a combination of vibrant trending colors and beautiful images in your website/application to attract a large base of audience. At AppAspect we connect you with creative designers that are inspired enough to create original pieces of graphical art enhancing the beauty of your website.
The various designers that we help you connect with at AppAspect include,
1. Graphic Designers for Website
The main task of a website designer is to incorporate functional tabs links into designer graphics. When the colorfully designed graphics come together with functional elements of animation, you can create a smooth workflow environment. Immaculate graphics on the website also increase the time for user retention substantially helping you generate more revenue from the advertisements.
At AppAspect, we help you find the graphic designers that have a sound knowledge of Photoshop and other photo editing software to create colorful posters and banners for your website.
2. Graphic Designers for Mobile Application
Almost every other company in the market is focusing on developing a mobile application for their services. The mobile application helps in faster checkout after purchasing a product and helps in reducing the data consumption on a smartphone/tablet device. With the help of graphic designers specializing in designing graphics for mobile application, you can develop graphic images for multiple resolutions of thedisplay depending on the type and screen size of the device selected.
3. Graphic Designers for Branding
Graphic designing for branding includes developing graphical content for various items such as stationery, merchandise, social media and television advertisements, logo designing, etc. When you hand a branding project to a team of graphic designers you want to make sure that all the members of the team can work on the same page. This will allow you to create a unified range of products that display a uniformity and discipline within your company.
At AppAspect, we aim to connect you with graphic designers that can work with a good team spirit to help the members of your team reach their full potential.
4. Graphic Designers for Corporate Profile
While building a corporate profile, you have limited number of words and a small space to convey the skills that your company can offer the client. You want to ensure that you are hiring the best graphic designers in the field to develop your corporate profile in a professional yet trendy manner.
With graphic designers from AppAspect, you will always receive work done with sheer dedication and within a stipulated amount of time.