iOS or Android: Which one is best for you?
Although there will almost certainly never be a clear winner in the iPhone app development vs. Android app development battle, we'll do our best to assist you in finding your particular favourite.
Both the iOS 15 and Android 12 operating systems are good in their own right, but in significantly different ways. Aside from the core touchscreen-focused layout, many of their functionality coincide, but their designs are rather distinct. Whichever of the greatest phones on the market today you choose, it will run one of these two operating systems.
The WordPress automation plugins are the plugins that will help you automate the social media posts that are they share the posts automatically on social media platforms as per the schedule and saves time.
We compare the strengths of each mobile platform, comparing iPhone vs. Android, so you can choose the best one for you the next time you buy a smartphone. AppAspect also provides both Android app development and iOS app development platforms.
You May Also Like to read: The flourishing domain of augmented reality!
Team iPhone:
You've made a commitment to Apple's ecosystem. This may sound like a flimsy excuse, but Apple makes a wide range of tech devices, and acquiring an iPhone makes a lot of sense if you already own a Mac, iPad, or Apple Watch.
Apple has created a number of tools that allow you to transfer work and data from one of its devices to another, and these features can save you a lot of time. Take, for example, Handoff, which allows calls on your iPhone and web pages in Safari to easily transition between iOS development and macOS. Text copied on one platform can be used on another with Universal Clipboard.
Only a few Android development companies have hardware ecosystems that come close to Apple's, and even those that do, like Samsung, don't offer the same level of integration as the iPhone and other Apple-built products. With its new Your Phone app for Windows, Microsoft is helping Google bridge the gap slightly, allowing Android users to respond to SMS and notifications on their PCs, albeit the experience is a little awkward and there is still work to be done.
There are many of other fantastic examples of iOS, iPadOS, watchOS, and macOS continuity, and the iPhone is an important piece of the equation, especially now that iPhone apps can be smoothly moved to macOS. Power users who are already steeped in Apple's ecosystem will benefit greatly from adding an iPhone to their arsenal. That's not to mention friends and family members who prefer to communicate via iMessage or FaceTime.
Third-party apps are simply superior. This is purely a matter of personal taste, but as someone who has switched back and forth between iOS and Android, I've consistently been blown away by the quality of apps created by iOS app developers, while being generally dissatisfied by their Android development counterparts.
With app tracking notifications, you have more privacy controls. App tracking notifications were introduced in one of the most recent iOS updates, allowing you to opt out of apps following you across your phone. This was a significant victory for privacy campaigners and a serious setback for many third-party firms, such as Facebook.
This feature does not exist on Android, and we doubt it will ever exist. Don't be fooled into thinking that iOS is intrinsically more private than Android; Apple still collects a lot of information about you, but iOS is more resistant to third-party intrusion. It feels great to take away an app's capacity to track you.
Team Android:
Phones are available in a variety of pricing ranges. Android apps runs on the vast majority of smartphones in the globe, and because so many firms produce Android phones, they're available in every price range.
The same cannot be said for iPhones, which have a history of being pricey at launch before dropping in price with subsequent iterations.
It's more adaptable. Despite the fact that both iOS and Android have changed over time, Android development has always been known as the platform for consumers who prefer to experiment with and customize their devices. The home screen launcher, for example, offers dynamic widgets and the flexibility to hide apps anywhere on a page or in a drawer – something the iPhone only recently caught up to with iOS 14.
If you prefer a third-party software to one that came preinstalled on your phone, Android also lets you download third-party replacements for fundamental services like web browsers, keyboards, and media players and set them as the default versions. Over time, iOS development has improved in this area, albeit the implementation is still a little clumsy.
You can (sometimes) increase the storage capacity. Although expandable storage is less common these days, it is still available on select Android phones. This allows you to store photographs, apps, and other media on a microSD card that won't fit on your device's internal memory.
USB-C is a universal connector. These days, most Android phones use USB-C connections for charging and data transfer, which is great if you're one of those folks who prefers to travel light and only bring one cable. USB-C is now found on a large number of PCs.
There is a proper file system in place (with drag-and-drop support on PC). The majority of folks don't need to mess about with their smartphone's file system. Even still, it's nice to know that Android has the choice if you want it. Even better, when you connect an Android phone to a Windows PC, you can quickly drag and drop data into folders as if it were a regular disc.
Android phones are frequently the first to get new features. Sure, Apple's bank account is bulging. It is, however, only one corporation with a single mentality. As a result, iOS can be slow to adapt to new technology, or at least slower than the Android community.
With so many businesses producing Android phones and being Android app development companies, it's no surprise that Android partners are often first to market with mobile advances. Wireless charging, rapid charging, NFC, 4G LTE, 5G, OLED displays, in-screen fingerprint sensors, water resistance, and multi-lens cameras, as well as software advancements like real multitasking, copy and paste, and multiwindow support, all arrived on Android devices before iPhones.
Aside from the main iOS vs. Android debate, both operating systems have major improvements. The Material You design language lends itself to you with casual theming, and Android 12 is a big design leap from prior versions. There's also a new privacy dashboard, as well as a slew of other improvements.
With iOS 15, you'll get a new Focus mode, a slight update to notifications, updated versions of many important applications like FaceTime and Wallet, and a whole lot more that we won't get into here. Check out our iOS 15 coverage if you're interested.
Which one should you pick?
So, which should you choose: iPhone app development or Android app development ? Both platforms offer advantages and disadvantages, and your decision will be based on what you value the most.
Having an iPhone is a more straightforward and convenient experience. There's less to think about, and because Apple's iPhone is the most popular smartphone brand, there's plenty of assistance available wherever you go – whether you need a new battery or just want to get a new case.
In those ways, owning an Android device is a little more difficult. It's also more liberating since it gives you more options: how much you want to spend, what hardware and software features you want, and how you organize and personalize your experience. If you're picky about the technologies you utilize, Android might be a better option for you.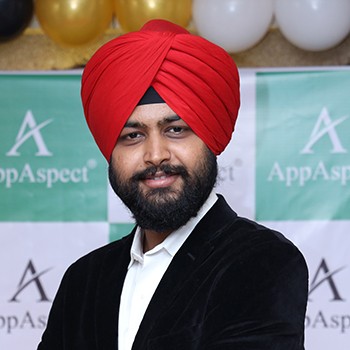 Gurupritsingh Saini is an entrepreneur and the one who leads his team at AppAspect Technologies Private Limited. He has vast knowledge of mobile application development. AppAspect helps businesses by providing website and mobile app development services.