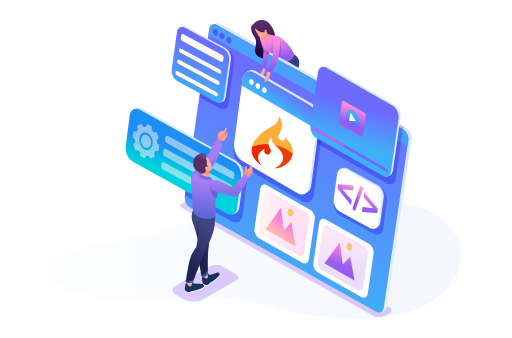 CodeIgniter Development
If you're seriously considering something revolutionary, then CodeIgniter Web Development in India is a service that you must actually at looking for, with all the expert facilitations made available courtesy of AppAspect.
Making the Web Development Company better and faster
At AppAspect, the CodeIgniter Development Service id certainly one of the most important directions of processes. If you want your PHP programs to cover all grounds, and yet want it made in shorter amount of time, then CodeIgniter is the framework that actually allows for it. A quicker turnaround is further augmented by perfect visualization and processing due to MVC. A web development company can also reuse a lot of code available in the libraries, but assurances of exactness and advantage are certainly in order. In total, CodeIgniter allows for a great deal of advantages under an affordable pricing range. Moreover, there is a greater extent of capabilities and realization, which makes a web and app design company like better perform and satisfy you from every perspective imaginable.
Do you want a really valuable and adept web app?
CodeIgniter can resolve everything and more
Websites operate under a variety of different shapes and structures. Our CodeIgniter Developers will fashion one in a really innovative fashion, which allows for flexibility and versatility.
Explore every possible aspect of the Web App
Web App Development Service has never been better
There is a case for AppAspect and its general provisioning of services that makes the work we do achieve a great extent of the industry benchmark. With proper planning and execution, it truly makes us one of the best Web App Development Service.
Flexible. Innovative. Effective
Ways of App Development Service by CodeIgniter
There are some factors that continue to remain true for us. These are the ones to follow:
Custom Applications are largely required for a significant volume of reasons, which is easily possible by CodeIgniter.
This also relates to Custom E-Commerce websites, which are certainly in the ballpark of any App Development Service out there.
Convergence of a variety of technology combinations indicate the value-oriented approach, which brings other technologies and combines to improve the entire process.
Multiple forms of integration, most prominently with third party APIs have increased and expanded all forms of capabilities.
It also involves multiple application of Web 2.0 Development with everything from a=maintenance and upgradation also available.
Features of CodeIgniter Development
Full-fledged Open Source Framework.
Flexible in terms of applying the process.
Completely Scalable and Robust across a multitude of platforms.
Very large and varied library of practical code excerpts.
Fully easy Customization and Handling by CodeIgniter Development.
Easy Integration of Third-Party APIs.
Dynamic Website benchmarking.
Extensive and Consistence Database Support.
Easy scalability and robustness in doing change directly into code.
Lots of Varied Functionalities.
Time-Efficiency across Development Process.
Why Choose AppAspect for CodeIgniter App Development?
Strong Back-End Support
As long as your concerns remain, you don't have to worry about the stability of functioning and state of your website.
CMS Development
With our CodeIgniter developers, you can get a wide range of streams for functionality, especially made to suit all client needs.
Completely Error-Free
The CodeIgniter App Development process does not end unless our tests don't finish in rooting out any or all problems that exist.
Running on Multiple Platforms
The web application is guaranteed to be completely responsive no matter who views it from anywhere.