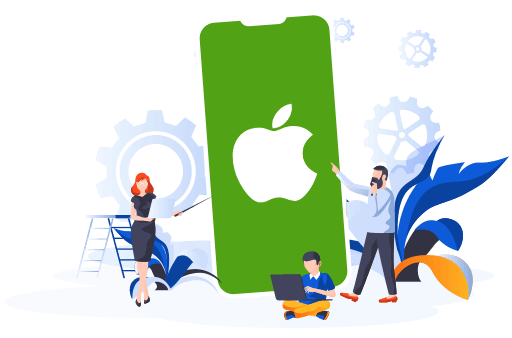 The OS on Apple devices like iPhone and iPad, known as the iOS, is one of the biggest application platforms for smart devices around the world. Every day, thousands of different applications are launched on the iOS platform. iOS development is quite an easy task for an experienced computer programmer. However, not every programmer is proficient in iOS development. Rather, it requires a certain set of strong skills from a person to create a user friendly and functional application.
You can hire the iOS developer for the following skills:
Fast Swift Based App Development
Swift is the programming platform that offers the users compatibility todevelop source codes for different iOS based applications. An iOS developer must be an expert in the knowledge of using the Swift platform efficiently. The person should be able to understand the core fundamentals of Swift based app development to add the necessary functionality during iOS development for a particular application.
When working with developers from AppAspect, you will find expert Swift programmers that can work fast with the platform. They are experts in integrating multiple language platforms to bring out best in an application development process.
Trending UX/UI Design Skills
While working with iOS development, you need to factor two important elements in the equation. Apart from delivering useful content, you need to focus on developing an aesthetically neat and intuitive interface. With the help of expert iOS developers from AppAspect, you can rely on the most creative minds in the industry to develop a user-friendly and intuitive interface.
The creative individuals from AppAspect take special care to update your application's interface with the most trending interface to engage user acquisition and retention.
Long-Term Team Working Experience
Every individual iOS developer working at AppAspect has years of a teamworking experience under his/her belt. We aim to connect your company with individuals that respect a teamworking environment and can work with a large team coherently. The developers at AppAspect are not only technically sound and at top positions in their fields but are goodconversationalists with a strong moral compass.
Working with these individuals will be pleasant for all your team members. We aim to bring a positive work reinforcement environment by connecting you with a talented and humble person.
Cross-Platform Application Development
iOS developers at AppAspect are knowledgeable and well-versed in developing applications for cross-platform Apple devices like the iPod, iPad, and iPhone. These developers can integrate the best features of the hardware with carefully assessed software functionality to provide a seamless application usage experience.
From using the larger screen of an iPad to the cellular connectivity feature of an iPhone, these experts can integrate the best software source codes with optimized hardware solutions.
Our goal is to connect your company with the top iOS developers in the industry to provide a comfortable project development experience.