Hire iOS Developers
On a weekly, monthly, and annual basis, hire iOS app developers to create feature-rich, composite, and technology-driven iOS applications.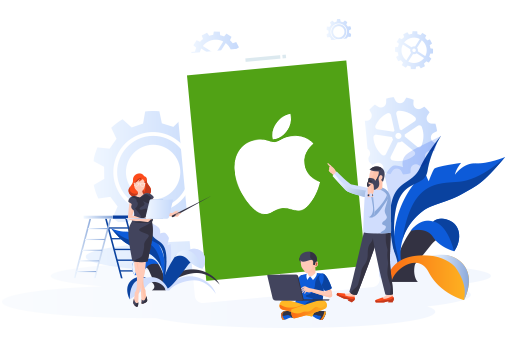 Increase Customer Engagement & Growth by Hiring Top Indian iPhone App Developers
Consider hiring us if you need devoted iOS developers who can create iOS projects rapidly and provide trustworthy assistance for your ongoing business tasks.
Whether it's a brand-new iOS project or an old app that needs to be converted, our developers can take your ideas and make them a reality while assisting you in reaching your business objectives.
Employ iOS App Developers With Full-Stack Knowledge
To guarantee that your project is finished to your total satisfaction, we may assist you in setting up a dedicated/remote team of iPhone iOS app developers.
Apps for the iPad by Apple
Interactive applications are created by our extremely skilled and experienced iOS developers. They have the tools necessary to complete all of your current projects. Hire iPhone app developers with the most experience and a strong track record.
Mobile AR/VR Apps
Employ iPhone app developers who can create highly helpful AR and VR apps for any industrial segment. These iPhone applications can increase CTR and aid companies in achieving their objectives.
iPhone applications
We have a group of pre-screened iOS app developers who can create any kind of app for both small and large businesses. Hire iOS developers with the best experience and exposure to working with clients from around the world.
Migration and Updates for iPhone app development service
We have qualified experts who are knowledgeable about the most recent industry standards and technologies and can properly upgrade and migrate your iOS software. From our extensive pool of qualified developers, hire iPhone app developers.
Key Advantages of Hiring iOS Developers from AppAspect:
Select Your Team to Hire
We keep your needs in mind, so before you choose to employ iPhone app developers through us, you can interview any developer you choose. We'll assist you in better appreciating their abilities.

Complete customer satisfaction
Only the most cutting-edge tools and technologies, such as IoT, Blockchain, AI, and AV/VR, are used by our gifted professionals. We provide a safe and easy-to-use solution that meets all of your operational business requirements.
Zero-Billing Promise
If you hire iOS programmers from us and you're not satisfied with their work, we're here to provide you with a full refund without any questions asked. Please don't be hesitant to call.
Integrity and openness
Your suggestions are valued by us, and we keep them in mind when we develop new products. Our staff adhere to the strictest industry standards and work transparently. We also keep our entire process confidential thanks to a pre-signed NDA.
4 Easy steps to hire iOS Developer from AppAspect
In just 4 quick steps you can hire dedicated iOS Developer from our team without any hassle.