Hire PHP Developers
Flexible engagement models with hiring for part-time, full-time, and hourly positions.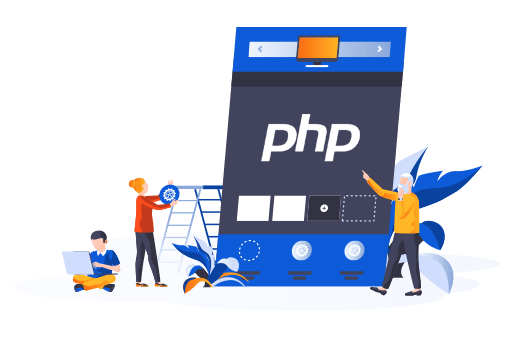 Commitment to meeting deadlines and delivering perfect answers
A skilled group with a wealth of knowledge and practical experience.An amazing track record with various successful PHP projects.
Competence of our PHP developers
Agile development processes and our technical proficiency in PHP front-end development, eCommerce solutions, and web applications have allowed us to offer a wide range of services in the PHP industry.
APPLICATION DEVELOPMENT IN PHP
You may rely on our dependable PHP developers to create PHP web portals, content management systems, or applications that are highly secure, responsive, resilient, and performant. We are among the top PHP development companies in India because of our skilled PHP developers.
PHP SITE SUPPORT AND MAINTENANCE
Hire a professional PHP development team that offers interactive site support and maintenance to stay up to date with current market trends. Our support and upkeep services are designed to protect your website and keep it competitive.
INTEGRATIONS & UPGRADING OF PHP
Hire specialised PHP developers who are skilled at both designing unique PHP applications and integrating and upgrading your current applications with PHP.
MIGRATION SERVICES FOR PHP
If you wish to switch from parallel technologies like Java, you should
hire the best PHP developers to ensure a flawless migration at a reasonable price. Net, Python, onto a dynamic and resilient PHP platform.
Why You Should Hire Us For PHP Website Development
Our ability to combine agility, dependability, and competence in the best way possible makes us a reliable technology partner you can rely on.
Coding without bugs
Get error-free, superior, and efficient PHP code created by qualified professionals to guarantee that your application functions without a hitch.

End-to-end services
Hire developers from us and receive complete PHP web development services in one location to avoid the headaches of working with various vendors.
Continuous Communication
Have a specialised project manager take care of your project and ensure that you and your developer/team can communicate easily.

Transparency and Trust
For complete confidence and transparency, have access to the Basecamp project management application and be informed about the project's progress.
4 Easy steps to hire PHP Developer from AppAspect
In just 4 quick steps you can hire dedicated PHP Developer from our team without any hassle.