Hire Website Designers to Create a Website as a Brand.
For any assignment, hire professional Website Designers. You can engage a web designer to make a website from scratch or to upgrade an existing one that is hosted on a platform like Squarespace, Wix, or another one.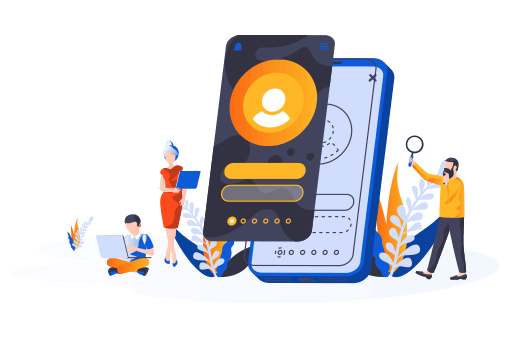 Select Our Passionate website Designers to Get the Best Results
Finding the top website designers near you is easy with us. Enter your location above, and we'll do the effort to get you estimates from Web Design services in your region quickly and for free, no matter what kind of site design you need, whether you are in the India, and whether you need an agency or a freelancer.
Expertise of our Web Designers
We provide qualified web designers to meet any need. To create unique websites, you can hire our highly-skilled web designers.
Designing responsive and personalised newsletters for businesses is our area of expertise. Hire one of our talented web designers to create a newsletter that will boost participation and persuade readers to take action.
Responsive Web Design
We are aware of Google's emphasis on having a mobile-friendly website. Our web designers create responsive and mobile-optimized web design for your company while taking this into account.
Web Design That Is SEO-Friendly
We have a lot of expertise managing cross-domain projects. You can hire website designers from us that are knowledgeable about the most recent SEO guidelines and how to successfully incorporate them into web design.
Creation of Interactive UI/UX
When creating a website, we place a lot of emphasis on fantastic UI/UX design. We combine cutting-edge technology with our creativity to create visually appealing websites. To provide a wonderful user experience, hire web designers from us.
Create a logo
Enhancing business identification requires creating a website logo. Our team of web designers will give interesting suggestions on ways to make a brand stand out online. We'll create enticing logo designs to go with the company name.
Designing for Resilience
We are aware of the significance of having a website with a screen-fit design. Because of this, our incredibly talented web design team uses finesse to create a design that is appropriate for the screen sizes of all devices.
Reasons to Work with Us to Find dedicated Website Designers
We have a sizable group of talented, imaginative, and highly professional web designers. Our talented Designers generate original concepts and produce top-notch designs through their quality web Design services.

Professional Web Designers
We have seasoned web designers on staff who have past expertise designing for a wide range of company verticals. To enhance the creative process, they are kept up to date on the most recent trends in web designing services.
Speedy turnaround
Our crew is very pro-active when it comes to project delivery. The web designers collaborate effectively from the initial brainstorming stage through the final deployment phase to guarantee prompt delivery to the clients.
Models of Flexible Engagement
Every project has specific requirements, as we are aware. We provide a number of engagement models so that customers can hire web designers on an hourly, weekly, or monthly basis in order to efficiently meet their objectives. Your needs are met by our qualified web designers.
Complete Security
You can anticipate a higher level of protection for your project's concept when you work with us to engage devoted web designers. To reassure our clients that their projects are entirely secure with us, we first sign an NDA with them.
4 Easy steps to hire Web Designers from AppAspect
In just 4 quick steps you can hire dedicated Web Designers from our team without any hassle.