How mobile apps are filling the gap between technology and healthcare.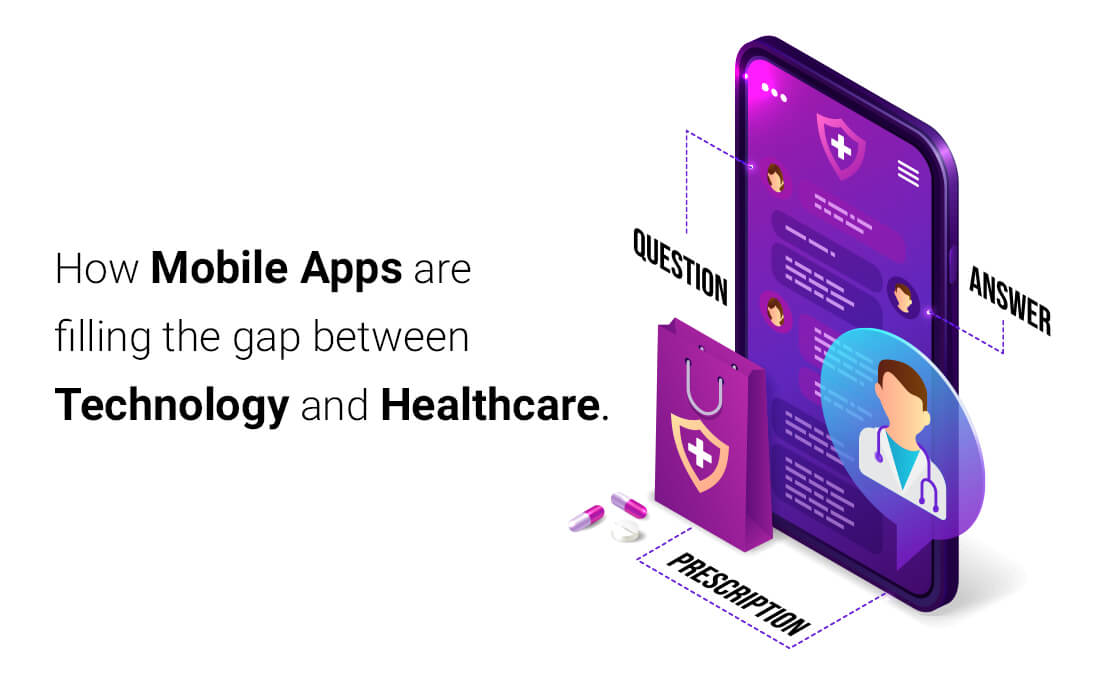 With the use of mobile apps, the healthcare ecosystem is revolutionizing by enhancing communication, performance, and feature of the service. In the upcoming days, by 2020, it is predicted that mobile apps will cover up to the maximum market in the healthcare sector; however, some reports have indicated a total market size of more than 60 billion US dollars. The healthcare apps are the new turn in the medical industry as these medical healthcare apps have proven their benefits not only to doctors and patients but also to hospital staff and pharmacists. These apps are very useful in online consultation, analysis, meetings, and medical supply delivery.
Important Facts about Mobile Apps for the Healthcare Industry
Nowadays, there is the large number of people use mobile apps and smartphones. This sudden growth in the use of mobile apps and a portion of smartphones has given a new turn to the mobile healthcare industry.
Healthcare Apps Market Snapshot
In the world, we can say there are more than 318,000 health apps uploaded on the app store and the play store.
According to the report, it is noticed that 200+ new healthcare apps are attached each day on the app store and the play store.
By the end of 2025, it is excepted that the mobile healthcare apps will generate around 111.1 billion dollar's revenue of the total market.
AI-Powered Healthcare Apps and Consumers
According to Accenture's reports, there will be rapid growth in the number of healthcare consumers to adopt digital marketing every year.
75% of US customers that have been viewed said technology is essential to maintaining their health
Patients are open to smart technologies that can improve the self-care process
The patients most love the digital health tools, which give self-service that goes beyond the website.
74% of the people who encountered an implicit health care service were very happy
Approximately 50% of patients favor an instant, virtual meeting over an in-person appointment
These high numbers have brought many healthcare providers and future business people to spend on mobile healthcare apps than the other. The most valuable investment will be health care mobile apps as the use of mobile apps are increasing, so if you are an owner of the medical industry or a service provider of health care, then go with these apps. Now let us see how the use of the mobile app is beneficial in the healthcare industry in different ways.
How Can Mobile Apps Benefit Healthcare Businesses?
From the reports presented, it is proven that most of the patients favor a virtual appointment to the doctor rather than an in-person appointment if they are provided with an option. So here we will see how the use of mobile apps will be beneficial to the healthcare industry.
Help Instant Access:
With the use of the mobile app, you can allow an online meeting advantage to the patients. This gives your patients instant entrance, so they do not have to stay in long lines at your hospital for the number, and also they can stay at their home. To do so, they have to download the appropriate mobile app and have to create an account on it. They will be immediately joined to you and can tell their health problems in a hassle-free way.
Effective Approach of Emergency Cases:
Clinics and healthcare providers that offer a perfect app can effectively manage emergency cases. The mobile application will inform the emergency patients' to doctors, and all the required data will be sent to the doctor's machine. This will help doctors to save their time so that they can take immediate action on emergency patients.
Increased Communication:
With the help of these mobile apps doctors, and hospital staff easily communicate with patients. By using this app, the doctors can directly communicate with patients and can suggest medications. The app will inform doctors and patients of future meetings and inform hospital staff if any reports/documents are needed for the analysis. It can be helpful in communication throughout the hospital premises.
Simple Combination with Wearables for Data Collection:
The mobile app can even be combined with wearables like pedometers, watches, mobile, and many more to gather data such as pulse rate, blood pressure, etc. The mobile app will receive daily updates about a patient's health by wearables and save the database's same information.
Which Platform to Use for Your Healthcare Mobile App?
The constant development of different technologies has started up new ways of application development. Always remember that your mobile healthcare app or mHealth app should not stop on one thing that is to scheduling meetings. It should be able to provide valuable data to patients and resolve their problems in real-time. That is why you need to ensure that you are using the right principles and technology for your mobile app development. Let us see what the popular technology trends that can use to develop mobile apps are.
Artificial Intelligence (AI):
Artificial Intelligence (AI) allows various benefits to the healthcare practice. For doctors, AI technology helps make better data-driven choices. AI can increase the performance of the analysis process and the overall treatment method.
The Internet of Things (IoT):
The IoT (Internet of Things) technology combines various electronic devices, software, and applications to manage data and control processes over the programs. With IoT combined, doctors can get valuable information about the patient's current health status, medicine, dosages, and control of the treatment process.
Blockchain:
You might presently know about blockchain, thanks to the Bitcoin and cryptocurrency craze. Blockchain technology practices a peer-to-peer database to protect verified reports of all the activities. You can use this technology for your custom healthcare mobile app to register and save patient's medical history in an encrypted form.
Augmented Reality (AR):
Augmented Reality or AR is a digitally formatted version of the real world. It takes the images, videos, and other data from the real world and expands it. Mobile applications built with AR can help doctors and surgeons drastically improve training and hands-on patient care experience and efficiency. It can stimulate the real-world experience of a specific surgery or diagnosis to help doctors better understand its feasibility.
Big Data Analytics:
Big Data gives sufficient data, stats, and numbers to be prepared through advanced software. It can help hospital owners, healthcare providers, and doctors maintain many records and resources, reducing the need for paperwork.
Final Words:
The healthcare apps have become the need of the hour because it has simplified the people's lives to a large extent. Complex tasks can be executed with ease, and difficult decisions have become straightforward. In this way, by using mobile apps, the gap between mobile and healthcare is filled.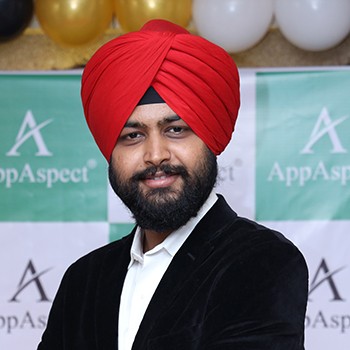 Gurupritsingh Saini is an entrepreneur and the one who leads his team at AppAspect Technologies Private Limited. He has vast knowledge of mobile application development. AppAspect helps businesses by providing website and mobile app development services.