How Much Will NFT Marketplace Development Cost in 2021?
The non-fungible token is undoubtedly the trendsetter in the modern digital market world. Recently, investors, creators and individuals have joined the buying and selling of digital assets in the form of NFTs. Experts bring an exciting insight to educate readers. Stay tuned with us in this blog to know everything about how much NFT Marketplace development costs. Additionally, we will also highlight some important aspects of NFT Marketplace development.
What is an NFT Marketplace?
An NFT is a unique digital asset or a product combined with a digital certification that can trace the ownership of a digital asset. Additionally, unlike alternative tokens (traditional currency), it is not possible to trade NFTs directly. This requires a unique platform called a marketplace.
Buyers can access marketplaces such as OpenSea and purchase virtual products using cryptocurrencies such as Ethereum and BitCoin. Marketplaces issue a fixed fee on the total transaction amount of NFTs acquired.
Types of NFT Marketplace Platforms
There are mainly two types of NFT Marketplace platforms:
1. Niche Peer-to-Peer Marketplace: The objective of these NFT Marketplace platforms is to offer exclusive digital assets, i.e., assets belonging to a niche. Valuable is a classic example of a P2P NFT marketplace. we can consider the Glass Factory, where users can buy digital holograms.
2. Universal Fungible Token Website: In the Universal NFT Platform, anyone can sell any kind of crypto asset. It can be anything from digital art to the domain. We are well aware of some of the top Universal NFT platforms, Ryble, OpenC and Mintable.
Which are the top NFT Marketplace platforms?
NFT market development is gaining high popularity nowadays. NFTs will surely bring in new customers in the coming years. Hence, it can flourish in markets with heavy selling and buying. Such a transactional platform provides a place for non-fungible token development companies to buy, sell and trade non-fungible tokens. Here are some of the top NFT marketplace platforms that are leading the race in 2021:
Opensea
Opensea is the world's first and largest NFT marketplace for cryptocurrency. The organization allows its users to trade in digital collectibles, gaming assets and other blockchain-backed assets.
Rarible
Rarible is another extremely popular NFT marketplace. It is a well-established platform that allows digital artists and creators to theme and monetize the crypto assets they create. Additionally, Rarible is also a distributed network developed on Ethereum that allows trading by eliminating middlemen.
SuperRare
SuperRare is a marketplace to store and buy/sell unique exclusive digital artwork. Interestingly, each artwork is created and certified by an artist in the (digital) network. Furthermore, it is marked as a crypto-collectable digital asset that sellers can own and trade.
Hoard Exchange
Hoard Exchange is an NFT platform primarily focused on revolutionizing the video game industry. The organization accomplishes this by enabling its users to have real ownership of virtual objects and content using blockchain technology. In addition, Hoard Exchange serves downloadable content.
Foundation
Foundation, called "Foundation". The foundation suite is straightforward and easy to navigate one. Users of all kinds participate in (decentralized) auctions to sequester creative digital assets.
How Does an NFT Marketplace Work?
How Does an NFT Marketplace Work?
Typically, all NFT marketplaces have a standard user flow:
Step 1: User signs up/registers an account on the NFT Marketplace platform
Step 2: The user is then required to set up a crypto wallet
Step 3: Now, we come to the initial NFT creation phase. Users can upload a digital collectable (any asset the user wishes to tokenize) to display their work
Step 4: When listing the property for sale, the user has two options: setting a fixed price or auctioning the item and finally choosing a bid
Step 5: Assets pass moderation
Step 6: Once new NFTs are approved, potential customers can find them in the sales list
Step 7: The owner of the NFT can start with accepting the bids
Step 8: When the auction ends, the platform notifies token owners about the top bids
Step 9: The NFT Marketplace platform controls and approves the transfer of digital assets and funds
How Much Does NFT Marketplace Development Costs?
Now we come to an exciting and intriguing question, how much does it cost to develop the NFT Marketplace? However, in short, everything depends on the amount of work required. For example, if you decide to use a ready-to-use solution, the cost will be lower.
The same flow for platform functionality is as follows. If your needs reach a complex platform (a platform with dynamic features that hasn't been implemented before), you'll need to invest more money in market development.
For your convenience, we have prepared a table presenting the relationship between the functionality of the NFT Marketplace and its cost.
How can Idea Usher help to kickstart your NFT Marketplace Business?
We serve as a perfect push for the growth of many blockchain technology businesses. We always strive to provide a reliable solution for companies in the crypto world.
Our experts provide an efficient building model. Additionally, they design your NFT marketplaces (as per the trend) and your business needs. Our product development includes the best marketing strategies to kickstart your NFT marketplace. We help you to compete with the market players and emerge as a new trendsetter in the market.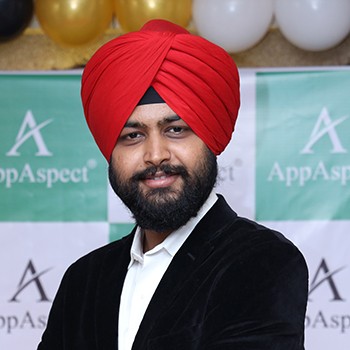 Gurupritsingh Saini is an entrepreneur and the one who leads his team at AppAspect Technologies Private Limited. He has vast knowledge of mobile application development. AppAspect helps businesses by providing website and mobile app development services.